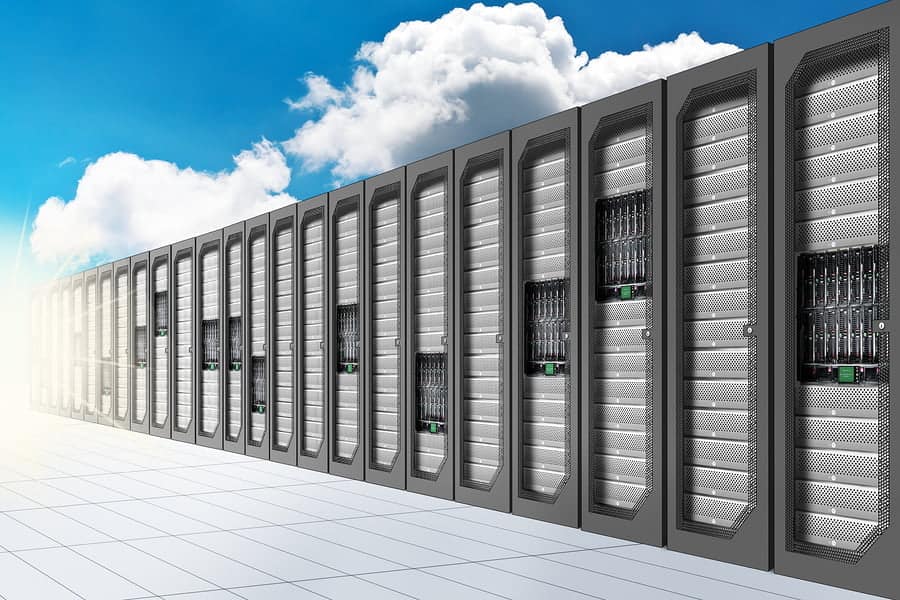 Behind the scenes, however, cloud computing is still a hot topic. In fact, it's no longer a question of whether or not a company will undergo a cloud transformation. Rather, questions about precisely what services and operations should be shifted into the cloud, how much will they cost, how much will they save the business, and how quickly can it all happen, are dominating the conversation.
But where has the cloud computing revolution come from? What are its origins, where are we today, and where's it going next? Let's consider the history and evolution of cloud computing that has brought us up to the present, and examine the trends that will impact the future.
A Brief History of Cloud Computing
When we think of the cloud, rarely do we cast our minds back to times before the 21stcentury. After all, it's really just been over the past decade or so that cloud computing really started to develop into the giant, omnipresent and all-powerful behemoth we know today.
But the truth is that concepts of the cloud have existed for many, many years, and in fact can be traced as far back as the 1950s with mainframe computing. In those early days, mainframe computers were huge machines, and very, very expensive – too expensive to buy and maintain one for every single employee. And of course, not every single employee needed access to one at all times like they do today. As such, most organizations would purchase just one or two machines, and then implement "time-sharing" schedules which enabled multiple users to access the central mainframe computer from connected stations. These stations were known as "dumb terminals", and provided no processing power of their own. Even so, this type of shared computational power is the basic, underlying premise of cloud computing, and where it all began.
In the mid-1960s, a major advancement in cloud computing came when American computer scientist J.C.R. Licklider conceptualized an interconnected system of computers. In 1969, "Lick", as he is often known, helped develop a very primitive version of the Internet, known as the Advanced Research Projects Agency Network (ARPANET). ARPANET was the first network that allowed digital sources to be shared among computers that were not in the same physical location. Lick's vision was also for a world where everyone would be interconnected by way of computers and able to access information from anywhere. Sound familiar? Of course it does – it's the Internet as we know it, and a necessity for accessing all the benefits that the cloud realizes.
Over the decades that followed, many further advancements in cloud technology came into being. In 1972, for example, IBM released an operating system (OS) called the Virtual Machine (VM) operating system. Virtualization describes a virtual computer that acts just like a real one, with a fully-operational OS. The concept evolved with the Internet, and businesses began offering "virtual" private networks as a rentable service, eventually leading to the development of the modern cloud computing infrastructure in the 1990s.
(Image source: cloudcomputing521.wordpress.com)
Also in this decade, telecommunications companies began offering virtualized private networks, which had the same service quality as their dedicated point-to-point data connections at a reduced cost. Instead of building out physical infrastructure to allow for more users to have their own connections, telecommunications companies were now able to provide users with shared access to the same physical infrastructure.
In the early 2000s, Amazon Web Services (AWS) emerged, and Amazon launched Elastic Compute Cloud (EC2) in 2006, allowing companies and individuals to rent virtual computers through which they could use their own programs and applications. In the same year, Google launched its Google Docs services, allowing users to save, edit and transfer documents in the cloud.
In 2007, IBM, Google, and several universities joined forces to develop a server farm for research projects. It was also the year that Netflix launched its video streaming service, using the cloud to stream movies and other video content into the homes and onto the computers of thousands (and eventually millions) of subscribers worldwide.
Cloud Computing Today
Over the past decade, cloud computing adoption has seen explosive growth – at both consumer and enterprise levels. Legacy software providers such as Microsoft, Oracle and Adobe have all made huge, concerted efforts to encourage users of their on-premises software offerings to upgrade to their cloud equivalents, which are usually offered on a subscription pay-as-you-go basis.
At the same time, we have seen a cornucopia of cloud-native providers – such as Zendesk, Workday and ServiceNow – emerge with Software as a Service (SaaS) offerings that are (and have always been) only available in the cloud. And it's not only Software as a Service that has emerged, of course, but Platform as a Service (PaaS), Infrastructure as a Service (IaaS), Backup as a Service (BaaS) and Disaster Recovery as a Service (DRaaS) as well. Pretty much Everything as a Service (or XaaS, as it is peddled by companies like Google and Microsoft who offer such holistic resources) is now available.
Over the course of the last ten years or so, cloud computing has evolved from being something that service providers told companies they should be adopting, to the very lifeblood that runs through most modern enterprises. As such, organizations have become increasingly accustomed to the pay-as-you-go cloud billing model, and now look upon IT purchases as a day-to-day expense, rather than a one-off investment that they will be stuck with for the foreseeable future.
In fact, 451 Research has found that 90% of organizations will be using some form of cloud computing services in the next two years, with 60% saying that the majority of their IT will be off-premise. What's more, 49% of organizations have adopted a cloud-first approach for deploying net new applications. 451 Research also predicts the cloud computing market will reach $53.3 billion in 2021 – up from $28.1 billion in 2017.
(Image source: 451research.com)
Cloud Computing Trends to Prepare For
So what does this all mean for organizations and their CIOs and CTOs in the future? Where is cloud computing going? For one thing, it's clear that cloud computing has moved beyond being simply another option on the table, and has transformed into a way of doing business. Enterprises will be able to increasingly consume IT without the constraints of having to build and maintain its underlying infrastructure.
451 Research analysis also reveals that a slim majority of enterprise workloads will run off-premises IT environments by 2019, and that more than one-third of all workloads will operate in public cloud environments. In addition, research by IDC reveals that almost half of IT spending will be cloud-based in 2018, and that it will reach 60% of all IT infrastructure and 60-70% of all software, services and technology spending by 2020.
As such, it's imperative that CIOs and CTOs view cloud computing as a critical element of their organization's competitiveness, and that they explore which of their services, operations and offerings would be better served by moving them to the cloud.
Here are three cloud computing trends that CIOs and CTOs need to be prepared for in 2019.
The Number of Cloud-based Services and Solutions Will Continue to Rise
Indeed, they will. According to Bain & Company, subscription-based SaaS solutions will grow at an 18% CAGR by 2020, IaaS/PaaS at 27%, and public cloud infrastructure and enabling services at 12%. In all, cloud computing hardware, software and services are capturing 60% of all IT market growth.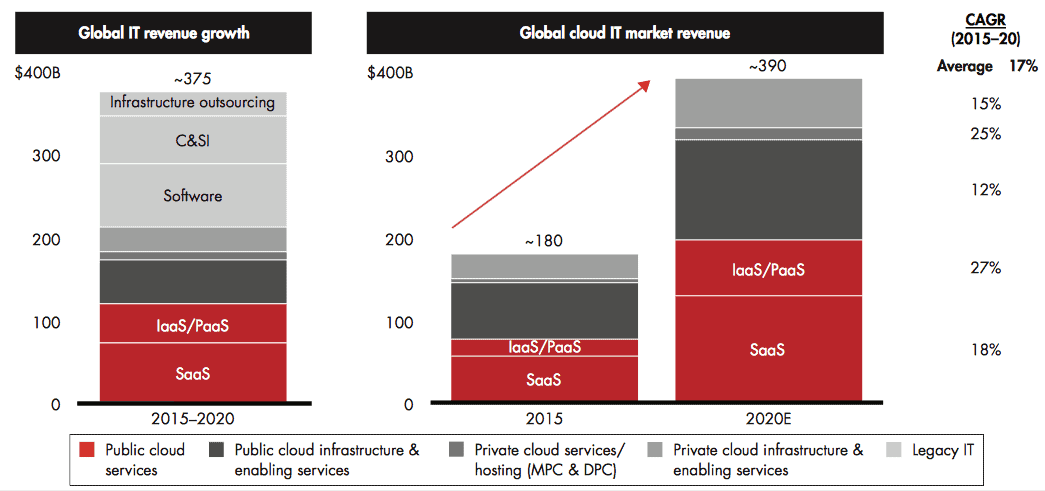 (Image source: bain.com)
Hybrid and Multi-Cloud Strategies Will Play a Key Role
Making a full cloud transformation is a challenging prospect for most enterprises. As such, hybrid and multi-cloud cloud strategies will play a key role in cloud transitions in the near future. With a multi-cloud strategy, organizations may, for example, use their own on-premises dedicated servers (private cloud) for the hosting of particularly sensitive workloads, with those that are deemed less critical hosted with a public cloud provider. Similar though distinct, a hybrid cloud solution mixes on-premises private cloud and third-party public cloud with defined orchestration between the two.
Hybrid and multi-cloud strategies are often seen as means for an organization to dip its toes into those cloudy waters, enabling a steady-paced transition with less risk and less expense. In 2019, many companies will continue such blended cloud approaches, allowing them to access the efficiency and effectiveness of public cloud computing, while still retaining central control of their most sensitive and mission-critical items. 451 Research predicts that 69% of enterprises will have either multi-cloud or hybrid cloud IT environments by 2019.
Security and Compliance Will Be Critical
As more and more businesses migrate more and more of their services and functions to the cloud, security and regulation compliance will become an increasing concern.
Hackers go where the data goes, and as more data is pushed to the cloud, so too will the hackers trying to breach the system and steal valuable databases to sell on the dark web.
In May 2018, we saw the EU's General Data Protection Regulation (GDPR) come into effect, which of course has implications for all global enterprises. Cloud computing compliance under the GDPR is not easy, and many organizations are not prepared. In fact, a recent survey from Commvault revealed that only 12% of global IT organizations understand how GDPR will affect their cloud services. And GDPR is likely only the beginning – as governments around the globe start recognizing the risks, cloud computing will no doubt start to become highly regulated.
Final Thoughts
Cloud computing has come a long way since those early days of mainframes and dumb terminals – and undoubtedly it has a long way still to go. Moving forward, CIOs, CTOs and the organizations they work for will face increasing challenges to not only remain competitive in this ever-changing cloud computing environment, but ensure they stay on the right side of both existing regulations and new ones as and when they emerge. It's safe to say that the next decade of cloud computing will be just as eventful as the last.
about the author: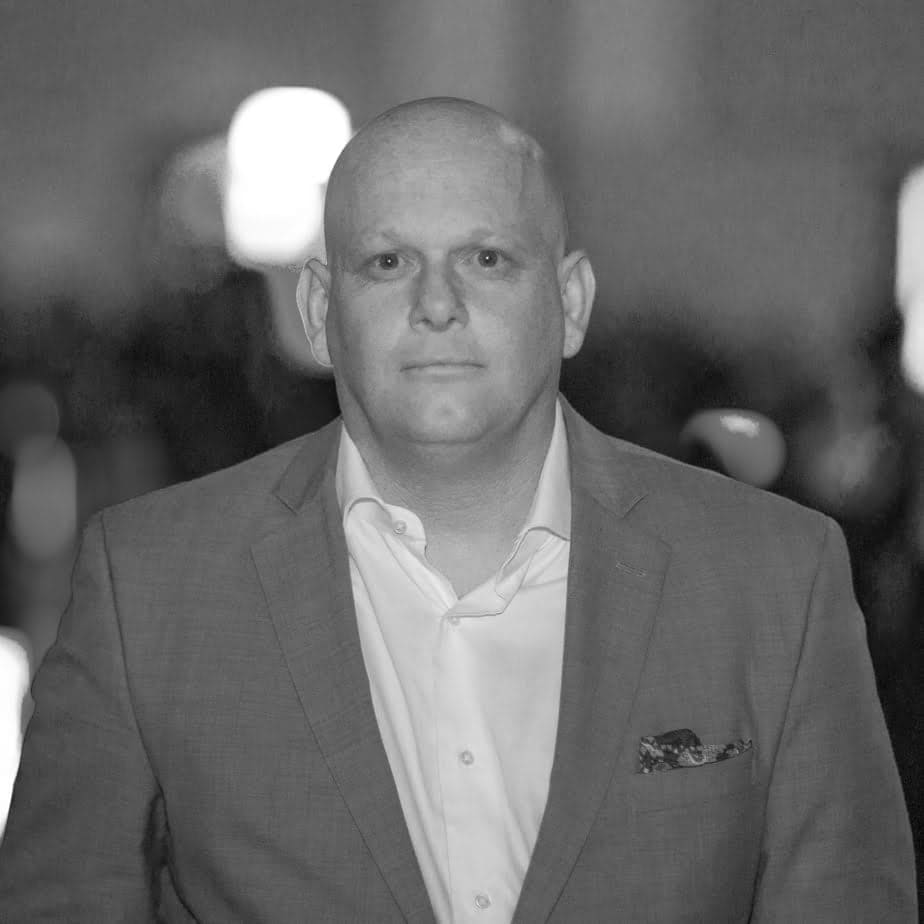 William Goddard is the founder and Chief Motivator at
IT Chronicles
. His passion for anything remotely associated with IT and the value it delivers to the business through people and technology is almost like a sickness. He gets it! And wants the world to understand the value of being a technology focused business in a technological world.
You can follow him on twtter ( @W_Goddard) and connect with him on
LinkedIn